Saturday, December 17, 2022 • 2:30 p.m.
First Free Methodist Church (3200 3rd Ave W, Seattle)
Sunday, December 18, 2022 • 2:30 p.m.
Bastyr Chapel (14500 Juanita Drive NE, Kenmore)
Harmonia Orchestra & Chorus
William White, conductor
Ellaina Lewis, soprano
Laura Beckel Thoreson, contralto
Zach Finkelstein, tenor
Zachary Lenox, baritone
---
Program
George Frideric Handel (1685 –1759)
Messiah, HWV 56
---
About the Concert
Harmonia's signature piece, we once again present our raucous rendition of this beloved masterwork. With the spirited interplay of our two double harpsichords, our commitment to singing and playing every single note of the score, and a number of special interpolations and traditions, you haven't experienced Messiah until you've heard Harmonia perform it.
---
Maestro's Prelude
Dear listeners,
Harmonia presents Handel's Messiah each season, which is fitting, since this is really the piece — and I do
mean the piece — that established the concept of "classical music." Prior to Messiah, the musical public was always in search of the new. Yesterday's music was quickly forgotten. But Messiah was such a hit that it fundamentally shifted this paradigm. We are gathered here today to participate in this tradition that now stretches back some 280 years.
You might think that performing the same piece every year would get boring. But it doesn't! I myself find it positively refreshing, and my more Messiah-skeptical colleagues tell me that when November rolls around, they roll their eyes at the thought of yet another Messiah, but the instant they hear the first notes, they are powerless against its charms.
You may think that performing Messiah every year would make it easy. Allow me to disabuse you of this notion entirely — in fact, it's a bit of a palaver, to use an expression from Handel's adopted country. See those harpsichords? They're not light! Not to mention the organ, the risers, and the 50 loaves of stollen in the snack room. Plus, we load the whole kit and kaboodle on a truck between performances.
Many of our musicians know the music so well they can sing and play it without even looking at their scores. But every time that a new musician enters our fold, they are faced with the Herculean task of learning three hours of music in something like four weeks of rehearsal. And not only do they have to learn Handel's Messiah, they have to learn Harmonia's Messiah!
If you know, you know, but if you don't, let me fill you in: our house version of Messiah has lots of little interpretations, interpolations and quirky folkways that distinguish it from any other rendition on Earth. Some of these require the players and singers to tape scraps of music in their scores, but others are things that get passed along in rehearsal, or that new musicians just have to pick up on by listening and learning. It's the very definition of a musical culture. More accurately, it's our musical subculture that exists within the mighty universe of Messiah interpretation and appreciation engendered by this masterpiece back in 1742. We're glad you're here to be a part of it.
Blessing and honor, glory and power be unto you that sitteth upon the pews — and Happy Holidays!
William White
P.S. If Messiah has enamored you of Baroque choral-orchestral music, I beseech you to join us in February for J.S. Bach's magnificent Magnificat plus a world premiere featuring our two harpsichords, a work composed by none other than Robert Kechley, a founding member of this ensemble who himself has played one of those keyboards in numerous Harmonia performances of Messiah over the decades.
---
About the Soloists
Soprano Ellaina Lewis demonstrates an extensive range of vocal and dramatic ability. Originally from Washington, D.C., she now makes her home in Seattle. In addition to Seattle Opera, where she sang the role of Strawberry Woman in Porgy and Bess, she has performed with Puget Sound Opera, Tacoma Opera, Seattle Choral Company, Everett Philharmonic, Sammamish Symphony, ArtsWest, Northwest New Works Festival, Ladies Musical Club, Cascade Symphony and Pacific Northwest Ballet School. Ms. Lewis has sung Violetta in Verdi's La Traviata, Amina in Bellini's La Sonnambula, Monica in Menotti's The Medium, the title role in Scott Joplin's Treemonisha, Erzulie in Flaherty's Once on This Island, Pamina in The Magic Flute and Gertrude in Hansel and Gretel. Concert engagements include Haydn's Creation, Mozart's Exsultate Jubilate and Villa Lobos' Bachianas Brasileiras No. 5. Ms. Lewis often blends her love of singing and her passion for dance, collaborating with S.D. Prism Dance Theater and contributing vocal improvisations as dancers interpret the choreography of Sonia Dawkins. Among her premieres are the title role in Sally Hemings (an opera and film production by Garrett Fisher) and the role of Simona in Night Flight with Book-It Repertory Theatre.
---
Contralto Laura Beckel Thoreson, hailed by Oregon ArtsWatch as "one of the loveliest voices in the Northwest," enjoys a widely varied singing career spanning opera, oratorio, recital and ensemble performances. She has appeared as solo artist with Portland Opera, Eugene Opera, Indianapolis Opera, Augusta Opera, Utah Festival Opera, Oregon Symphony, Portland Baroque Orchestra, Newport Symphony, Indianapolis Symphony, Cincinnati Symphony, Lafayette Symphony and many more, and has performed in Canada, England, Scotland, Belgium and the Netherlands. An avid proponent of new music, she is a frequent collaborator with composers and ensembles, participating in world-premiere performances and appearing on Billboard Top-Ten recordings. Born and raised in the Pacific Northwest, Ms. Beckel Thoreson is a founding member of Portland's Northwest Art Song organization, and a frequent guest on All-Classical 89.9's Thursdays @ Three. A graduate of Central Washington University and Indiana University's Jacobs School of Music, she was a member of the voice faculty at the University of Portland for four years, and is now a Professor of Voice at Clark College in her hometown of Vancouver, where she also maintains a private voice studio.
---
American-Canadian tenor Zach Finkelstein is a leading soloist in North America and abroad, from Seattle's Benaroya Hall to New York's Lincoln Center to London's Sadler's Wells to the National Arts Center in Beijing, China. His 2017 debut CD, Britten and Pears: The Canticles, was released on Scribe Records. In the concert world, Mr. Finkelstein is known for his "refined" and "elegant" interpretation (Vancouver Observer) of the works of Bach, Mozart and Handel (including Samson, Israel in Egypt and Alexander's Feast). In 2018, he stepped in on an afternoon's notice as soloist in Carmina Burana with the Seattle Symphony, and in March 2022 sang both the Evangelist and the tenor arias (the latter on short notice) in Bach's St. Matthew Passion with Harmonia. Hailed by Anthony Tommasini of The New York Times as a "compelling tenor," he made his New York City Opera debut as Mambre in Rossini's Mosè in Egitto. He is also an evangelist for new and contemporary works, an oeuvre he discovered as a two- time Vocal Fellow at the Tanglewood Music Festival. Mr. Finkelstein holds an Artist Diploma (Voice) from the Royal Conservatory of Music's Glenn Gould School in Toronto and a Bachelor of Arts (Honors) in Political Science from McGill University.
---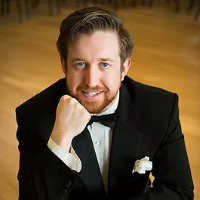 Praised for "a broad, resonant baritone that is exquisitely controlled throughout his entire range," Zachary Lenox has performed across North America, including the roles of Silvio (Pagliacci), Marcello (La Bohème), Marullo (Rigoletto), Count Almaviva (Le nozze di Figaro), Guglielmo and Don Alfonso (Così fan tutte), Papageno (Die Zauberflöte), Father (Hansel and Gretel), Sid (Albert Herring), Gianni Schicchi and Betto (Gianni Schicchi), and Dick Deadeye (H.M.S. Pinafore). He has appeared with Portland Opera, Opera Parallèle, Pacific Music Works, Cascadia Chamber Opera, Portland Summerfest, Portland Chamber Orchestra, Portland Concert Opera, Eugene Concert Choir, Bravo Northwest and the Astoria Music Festival. Concert appearances include Handel's Messiah, Samson and Judah Maccabeus, Haydn's Lord Nelson Mass, Schubert's Mass in G, Mozart Requiem, Verdi Requiem, Fauré Requiem, Orff's Carmina Burana and many works of J.S. Bach, including both the role of Jesus and the baritone arias (the latter on short notice) in the St. Matthew Passion with Harmonia. Later this season he appears with Eugene Opera in La Bohème, Tacoma Opera in the world premiere of Ezra Meeker's Tacoma Method, Opera Bend in Pagliacci and the Portland Youth Philharmonic in Beethoven's Ninth.
---
Program Notes
George Frideric Handel
Messiah, HWV 56
Handel was born in Halle, Germany, on February 23, 1685, and died in London on April 14, 1759. He composed Messiah between August 22 and September 14 of 1741. The oratorio was first performed in Dublin on April 13, 1742, under the direction of the composer. In addition to a quartet of vocal soloists and choir, the work calls for 2 oboes, bassoon, 2 trumpets, timpani, harpsichord and strings.
Handel, renowned in his day as an organist and as a highly prolific writer of Italian operas and English oratorios, was born in Germany in 1685 about a month before J.S. Bach. He received his musical training in Italy, and later became 18th-century England's "national composer." Between February and November 1741, Handel — suffering at the age of 56 from various ailments, both financial and physical — withdrew increasingly from public life. At some point that year, the composer received from the Lord Lieutenant of Ireland and the governors of Dublin's three major charitable institutions an invitation to travel to that city to aid the charities through the performance of his music. Handel was well known in Dublin as a church-music composer, and his works were often played there to benefit charities. It may thus have been this invitation that provided the incentive for Handel to compose "a new sacred Oratorio." In July of 1741, Charles Jennens, who was responsible for the texts of Handel's oratorios Israel in Egypt and Saul, gave the struggling Handel the libretto of Messiah, a compilation of biblical texts from both the Old and New Testaments.
On August 22, Handel began to set Jennens' text to music. He finished the first part of his new oratorio (which deals with the prophecy of Christ's coming and his nativity) in six days, the second part (which describes Jesus' suffering, death, resurrection, and ascension, the spread of his gospel, the resistance of the heathen, and the vision of the ultimate triumph of the gospel in the establishment of God's kingdom) in nine days, and the third part (which celebrates the gift of resurrection and eternal life offered to all through Christ's victory over death) in six more days, with two or three additional days for completing the orchestration. Regarding Handel's state of mind during Messiah's composition, biographer Jonathan Keates observes in his 1992 book Handel: The Man and Music that "etherealized visions of the elderly master refusing food, weeping into the semiquavers and having angelic hallucinations are mostly moonshine."
In the autumn of 1741, Handel accepted the invitation to visit Dublin, arriving there on November 18 with the completed score of Messiah in his traveling bags, but it was not until April 13, 1742, that the oratorio received its premiere. Seven hundred people were able to squeeze into Dublin's Musick Hall in Fishamble-street to hear the work performed by the choirs of Dublin's two cathedrals (totaling fewer than 40 men and boys) and the string band (reinforced occasionally by trumpets and timpani — oboe and bassoon parts were written later), all directed from the keyboard by Mr. Handel himself. The work created a sensation: "Words are wanting to express the exquisite Delight it afforded to the admiring crouded Audience," exulted Faulkner's Journal. "The Sublime, the Grand, and the Tender, adapted to the most elevated, majestick and moving Words, conspired to transport and charm the ravished Heart and Ear." Handel divided his share of the proceeds (about £400), as did the other performers, among Dublin's three most important charities.
Messiah is unique among Handel's works, being his only biblical oratorio using texts from the New Testament, and his only "Christian-contemplative" oratorio. Although the text is not a dramatic narrative but an epic-lyric poem celebrating Christian redemption, Handel's musical approach in setting Jennens' libretto was decidedly dramatic. The work's three parts recall the three acts of Italian operas, and the oratorio is indeed a piece designed by a seasoned operatic professional to "entertain," in the best sense of the word, listeners in a concert room, not chiefly to instruct or edify a congregation or to be used in any sort of worship.
Handel synthesizes the best elements of the three musical traditions in which he was steeped: the Italian, the German and the English. He makes use of Italian forms of musical expression, borrowing, rearranging and transforming into "duet-choruses" (such as "And he shall purify") some passages from his own Italian love duets. In the "Pastoral Symphony" (entitled Pifa) that introduces the shepherds, Handel alludes to the music of the pifferari, the country bagpipers who descend the Italian mountains during the Christmas season to play in village streets. Handel employs German musical ideas, particularly in the music describing Jesus' suffering and death, where the jagged dotted rhythms and forceful harmonies have a particularly German expressive quality. In that great "coronation march," the "Hallelujah Chorus," melodic fragments echoing the German chorale "Wachet auf" may be heard in "The kingdom of this world" and in "And he shall reign for ever and ever." Handel's melodic shapes, vocal treatment, grand anthem-like choruses, and text-setting display the "English character" that has ensured Messiah's unchallenged supremacy in the English choral repertoire: in such arias as "He was despised" and "I know that my Redeemer liveth," the rhythms of the music grow out of the natural speech rhythms of the words, so that the music expresses the text directly and powerfully, and then illustrates it almost visually (e.g., "Every valley shall be exalted," "The people that walked in darkness," and "All we, like sheep").
The easy accessibility and glorious variety of the music that results from the confluence of these elements (and which often conceals the exalted art underlying it) has helped to guarantee Messiah's survival, through a seeming infinitude of "arrangements," versions and types of presentation, as one of the most popular pieces ever composed. As R.A. Streatfeild observes, "Messiah, if not Handel's greatest work, is undoubtedly the most universal in its appeal" because it continues to sing to "high and low, rich and poor, wise and foolish alike" a magnificent song of salvation, fresh, vital and full of aesthetic and spiritual grace.
— Lorelette Knowles
---
Harmonia and Messiah
The Seattle Chamber Singers first presented (the Christmas portion of) Messiah in December 1970, on a holiday program that included the world premiere of a cantata by the group's founder, George Shangrow. In those early years George led annual sing-along Messiahs at University Unitarian Church, a tradition that began in 1969. And in 1975 he played harpsichord ("superbly," according to The Seattle Times) in a Seattle Symphony performance of the work.
The following year George (described as a "young man of much hair" by a Times reviewer) conducted the first complete SCS Messiah, billed as "almost a duplicate of the first performance of Messiah as Handel first heard the work" and the Seattle premiere of this "Dublin version" of the score. KUOW-FM broadcast the concert live from Meany Hall and the Times critic praised the "crisp, clean, good sound, a chorus together in joyous harmony."
The group presented presented Messiah almost every season that followed — except for 1983, 1985 (the Bach Year), 1993 and 1996 — until George's death in 2010. The ensemble performed it that year in tribute to its founder, but took a break for the next two seasons, returning to the work during Clinton Smith's first year as music director. Will White has continued this tradition.
One decision the conductor of any Baroque oratorio must make is which keyboard instrument(s) to use for the continuo section of the orchestra: organ, harpsichord, both? The earliest SCS performances generally featured a single harpsichord, invariably played by composer and keyboardist Robert Kechley, a founding member of the group. In 1984 he was joined by a second harpsichordist, but then continued solo until 1990, when George began playing and conducting from a second harpsichord, much as Handel himself would have done.
In 1998, the organization (with support from the PACCAR Foundation, King County Arts Commission, Visio Corporation and other generous donors) commissioned Michael Reiter of Tacoma to build a pair of instruments for use in Messiah and other Baroque works. Starting from kits made by Hubbard Harpsichords of Massachusetts, he created two instruments modeled on the French double-keyboard harpsichords of the 18th century. One contains three choirs of strings, while another has four sets of jacks instead of three. The first made its debut at our 1999 Messiah, and was joined by its companion the following year.
George and Bob played these harpsichords for Messiah thereafter until George's death, when this practice subsided. Our orchestra continued to employ one of the instruments for Baroque works, while the other has resided at Benaroya Hall in recent years, used by the Seattle Symphony and distinguished guest artists for many of their Baroque performances (along with some 20th- and 21st-century works requiring harpsichord).
In 2019, Seattle-based harpsichord builder David Calhoun overhauled both instruments to his exacting specifications and we welcomed Bob Kechley back to the keyboard for our Messiah concerts, sitting opposite Will White at the second harpsichord. (We do hope you will join us on February 5 for the world premiere of Bob's newest composition, written specifically for these instruments.)